Do you know of someone who should be acknowledged in one our 6 categories?
Teacher/Musician/Actor/Performer/Professional/Behind the Scenes, Production/Band, Performing Group/ Deceased



Inductees from our inception in 2006
2006
Howard Alexander
Peter & Marie Galvin
Bruce Ker
Judy Quick
Bob Snelgrove
Tom Wilson
2007
Ed & Betty Alexander
Raul Cirne Sr.
The Graduates
Anne Landon
Pat Marshall
Dr. Frank Phillips
2008
Marjorie Alexander
Richard Crotty
Deborah Dunleavy
George Elliot
Ed Flanigan
Ken Larocque
2009
Brockville Concert Band
Chris Coyea
Mary Hart
Mary Comstock
Bill Tufford
Sandy Wilson
2010
Lance Besharah
Brockville Pipes & Drums
Walter Hofmann
Dave Muir
Roger Tripp
Barry Whiteland
2011
Dr. Denise Bowes
Joy Goodfellow
Matt Hayes
Bruce Ker Trio
Mike & Charyl Trussell
Moxie Whitney
2012
Bruce Alexander
Gary & Mickey Code
Harry Ferguson
Ann MacDonald
Calvin Prescott
Cally Tripp
2013
Dr. J. L. (Jack) Carroll
Eddy & The Stingrays
Margot Green
Peter Lynch
Donna Matheson
Loretta U'Ren Kivinen
2014
Lynn Barkley
Marianne Bimm
The Fabulous Bel-Airs
Harold Hess
Matt Wilson
Art Wood
2015
Jennifer Deligiannis Norm Kearney
Eithne Dunbar Irma McCann
Pauline Grant Stan Pearce
H & S Express Brian Porter
Nora Johnston Sandy Runciman
Orchestra
2016
Curtis Country
Dr. Heather Eyerly
Fred Harper

Bob Hudson
Lisa Leroux
Terry O'Reilly
2017
Angelo Brunet
Sheila Fawcett
Nancy Wickwire-Fraser
Michael Healey
Art Mallet
Healy & Orr
2018​
Brockville Police Chorus
Rod Carley
Donna and Dave Cody
Malcolm Gillis
Ross Phillips Sr.
Jeff Reusing
2019
Ed Bush
Rolly Evans
Alex Fleuriau-Chateau
Reg Francis
Brenda Lewis
The Thousand Islanders Barbershop Chorus
2020
Sue Baker
John Ballachey
A.J. Benoit
Todd Noel
Al Torrance
Margaret Whisselle
Howard is a versatile performer, musician and teacher who has written over two hundred pieces for various instruments and choir. He composed an opera with Deborah Dunleavy (inducted in 2008) which was premiered in Brockville. He taught music privately and in schools. He has performed professionally with orchestras such as the National Ballet of Canada. Locally, Howard has been on stage and in the pit for musical comedies for the Brockville Operatic Society.
Peter and Marie Galvin -- 2006
To Peter and Marie, local theatre is their life – Peter on stage and Marie behind the scenes. Peter has not only starred in many productions of the Brockville Theatre Guild, but has also directed many productions. Marie has been the producer for many of the Theatre Guild productions. They were a part of the creation of the Musi-Theatre Building that was added on to the Brockville Arts Centre in the late 1980s.
Bruce was an accomplished jazz musician who entertained for over 60 years. He played in many jazz groups. The Bruce Ker Trio (inducted in 2011) entertained at functions all through Eastern Ontario. When he was just 20 years old, jazz great Oscar Peterson highly complimented Bruce on his performance. Bruce is an accomplished jazz musician who has entertained for over 60 years.
Judy was a music teacher at Brockville Collegiate for 35 years. An accomplished musician herself, she led the BCI Bands to multiple wins at the Lions Music Festival. She was the inspiration for many young students to pursue musical careers, including: Todd Noel, Christopher Coyea (inducted in 2009) and Christopher Trussell. Judy continues to share her time and talent as the Chair of the Brockville Lions Music Festival.
Since moving to Brockville, Bob has been instrumental in raising the bar – the sound bar – for many productions at the Brockville Arts Centre. He unselfishly helps all of the amateur groups create a better sound quality for their productions. Professionally, his sound company has produced shows for Céline Dion, Cirque de Soleil and more.

Tom is in the Ottawa Valley Country Hall of Fame and has been performing for more than 40 years. From Corn Fest in Athens to every fair in the Valley, he has entertained generations of fans. He and his band have helped with the Palliative Care Telethon from its inception. Their song "St. Lawrence Valley is My Home" made it to the country charts in the 1960s. Tom continues to volunteer his talents at local Long Term Care Facilities and Retirement Homes.

Ed and Betty Alexander -- 2007
Ed and Betty Alexander not only taught but acted, sang, directed and produced in the Brockville Theatre Guild and the Brockville Operatic Society Productions for over 40 years. For years, Ed was the director and Betty was a soloist in their church choir. Ed was co-founder of the Brockville Lions Music Festival. It was their inspiration that started many music programs at elementary and high schools in the area.

His theatre career actually began in the sets while watching shows. One time, he thought: "I can do better than that", and the next year, he auditioned for and was given a role in "Hello Dolly"! However, it was behind-the-scenes where Raul excelled. Since the 1970s, he has been an integral part of the construction team at the Brockville Arts Centre. He was involved in bringing the sketches and designs of plays and musicals from paper to reality in the Musi-theatre workshop which now bares his name. He had state of the art ideas which enhanced the presentation of remarkable sets.
Barry Greene and Reg Countryman got together to play some tunes in 1962. They found Reg Rice drumming across the street and connected with Pat MacKay – a bass player from their high school days. The Graduates were born from a contest conducted at South Grenville District High School in Prescott. They played local venues such as Playland Park and Hilltop. By 1965, they were on the road professionally. Travel took its toll and they folded, but were reunited in 1970 with new members.

Anne taught music for over 30 years at Rideau District High School. She is the co-founder of the Brockville Community Choir. She conducted the Riverside Singers for 10 years, founded and conducted the Young St. Lawrence Singers and is organist and choir director at St. John`s United Church. Anne has been lead soprano in many productions of the Brockville Operatic Society and has been a devoted voice teacher and musical conductor. She was also principal of the Summer Music School of the Upper Canada District School Board for many years.

Patricia (Pat) Marshall -- 2007
Pat turned to performing when one of her high school teachers suggested she "take her energy and put it on stage for all to see"! Pat has been a member of both the Brockville Theatre Guild and the Brockville Operatic Society for over 45 years. She has had the lead role in many of their productions—starring as Annie in Annie Get Your Gun and even playing in the revival of Annie in 2008! In addition, she has served on the executive for many years and has contributed extensively to work behind the scenes with props and set décor.

Dr. Frank Phillips -- 2007
Dr. Phillips started his musical career as a member of the Trinity Anglican Church Choir. He went on to sing in local choirs and was a member of the University of Toronto, Hart House Glee Club. After moving back to Brockville and starting his dental practice, he participated in a number of musical and entertainment activities – including his part as an oboe player with the Brockville Rifles. Dr. Phillips and Traves Hepplestone were founders of the Brockville Operatic Society.

Marjorie Ale​xander -- 2008
From her début with the Brockville Theatre Guild in "Our Town" and over 5 decades, Marjorie appeared in dozens of major and minor productions, worked on costumes, make-up, props, publicity, set décor and set painting. She narrated, decorated and campaigned! She has won three Best Actress Awards in the Eastern Ontario Drama League festivals and was made a life member of the Brockville Theatre Guild in 1982. Upon Marjorie's death in 2013, the Theatre Guild initiated a "Marjorie Alexander Memorial Award" to recognize young people's contributions to local community theatre.

Richard started music lessons at the Ontario Conservatory of Music at the age of 12. At the age of 13, he became a teacher's assistant and apprenticed that way for 5 years. He was then hired full time. In 1968, Richard returned to Brockville working for the Canadian Conservatory as their Director of Music. Over three thousand students studied there. Richard adjudicated at Music festivals across Canada for over 40 years. He served as president and secretary-treasurer of the local Musicians Union. It was Richard's inspiration that sparked the beginning of the 30 Hour Palliative Care Telethon.

A performer all of her life, Deborah has spent over 30 years as a children's performer, recording 5 CD's of her own songs. Her facility with lyrics resulted in her works being included in several books of songs and teaching materials. She was requested to write songs for the Jim Henson Company (of Sesame Street fame). Her performing career has taken her all over North America. Since retiring, Deborah continues to perform as a storyteller.

George was a long-time member of the Brockville Musicians Union and served as president and Past president. He has played in numerous bands – having started his career with Tom Wilson (inducted in 2007). He was working with that band when he died in 2005. He toured as a drummer with Orville Prophet and opened for many other groups. He was an avid volunteer, having donated his time and talents at Riverfest, the Palliative Care 30 hour Telethon, Brockville Fall Fair, Brock Days and many other charitable events.

Ed was organist at various churches for 56 years. Prior to that, he played in several big bands including The Eddie Flanigan Orchestra and the Sandi Runciman Big Band. His commitment to music goes beyond the call of duty. During weekdays and on Saturdays, he had spent his full day teaching piano. Many evenings and weekends would find Ed as part of an orchestra. Sundays often found him playing the organ at a local church.

Ken joined the Brockville Pipe Band in 1966 as a drummer. A year later, he decided to learn the pipes. He loved performing in the parades but was also the Piper on call for events such as: The Brockville & Area Sports Hall of Fame, Robbie Burns Nights, and local weddings. A highlight came in 2001 when he piped Brockville's then Mayor Ben TeKamp from the Christmas Tree at Rockefeller centre in New York City for a special presentation to the city after 9/11.

The Brockville Concert Band -- 2009
The Brockville Concert Band has gone through several phases! The most recent Band was founded in the late 1960's. The band continues to encourage area musicians to play and perform. Now under the direction of Lance Besharah (inducted in 2010), the Concert Band has expanded to include upwards of 70 members. They perform locally for many fundraising causes.

Christo​pher (Chris) Coyea -- 2009
Little did he know that during his high school musical days, a performance career lay ahead! Chris attended university with the intent of becoming a music teacher, but his talents were noticed and he joined the performance program. Upon graduating, he accepted a full time position with the Canadian Opera Company and has performed throughout North America and Europe. Chris has appeared with all of our major Canadian opera companies as well as the Toronto, Halifax, Montreal, Hamilton, Winnipeg, Edmonton, Calgary, Vancouver and Victoria Symphony Orchestras. He was instrumental in creating the Music Theatre Program of Brockville's campus of St. Lawrence College. He was a member of a trio called The Three Divos who performed throughout the region. Chris was recently given the honour of Citizen of the Year in Brockville.

Music and performance were always a part of Mary's life. From singing in high school to working for the CBC, music continued to be her love. Upon Mary's return to Brockville, she was instrumental in helping restore the Brockville Arts Centre. She helped start the Sunday Concerts in the Park, co-founded the Brockville Community Choir (later to become the Riverside Singers) and served as chairperson of the New Year's Eve Concerts.

Mary (Ross) Comstock -- 2009
Music has always been a part of Mary's life. She was the first "Star" of the Brockville Lions Music Festival. Mary taught music at a local elementary school and was the accompanist for many Brockville Operatic Society productions. She was conductor of the Brockville Concert Band and the Brockville Police Chorus. She has been the Musical Director for six productions of the Brockville Operatic Society.

Bill was a music teacher at Brockville Collegiate Institute for over four decades. He taught thousands of students the joy of vocal music through choirs, musicals and a variety of concerts. Bill was the first musical director for the Brockville Operatic Society and directed music for over 20 productions. He was organist and choir director at Wall Street United Church for many years.

Sandy has been a professional musician for over 45 years! He grew up on Brock Street, went to Prince of Wales and then to Brockville Collegiate Institute. Sandy earned a living through music since he was 14 years of age. His passion for music is evident as he teaches classical guitar, violin, bass guitar and voice from his home in Brockville. He can move through any musical genre; he has played jazz with Bruce Ker (inducted in 2006), rock, blues and surf music. He is a well-rounded professional player and a patient and caring teacher.

Lance might best be described as a renaissance man as he has special talents in things technical and musical. He moved to Brockville in 1976 and joined the Brockville Concert Band. At Thousand Islands Secondary School he re-established the music program and brought back school musicals. He has taken the Brockville Concert Band from a small group of musicians to a 70-plus band. They have become one of the best community bands in Ontario.

Brockville Pipes & Drums -- 2010
It was August 1931 when a group of pipers got together and started the Brockville Highland Pipe Band. They suspended operations during the Second World War but started again immediately following the war. The band has had many names over the years from The Brockville highland Pipe Band to the City of Brockville Pipe Band and today the Brockville Pipes and Drums. Ken Larocque (inducted in 2008) served as pipe major for almost 20 years. The band can be heard at every parade in the area.

Walter was born into a musical family in Czechoslovakia and learned to play violin, trumpet and other musical instruments. He played with the official Czechoslovakian Military Band during the Second World War. After the war, he came to Canada and began teaching at South Grenville high School where he established a string orchestra, a concert band, a stage band, a Dixieland band and a complete girls marching band. Walter established the Fort Town Concert Association in the 1960's.

As a commercial artist, Dave brought his talents to Brockville in the 1950's and started right away with the Brockville Theatre Guild. From making a paper maché head to creating intricate set designs, a volunteer career was launched. He designed and painted sets for over 23 years for the Theatre Guild and Operatic Society. His most challenging work was for Annie which required 16 scenes to tell the story. Dave was inducted as a Life Member of the Brockville Theatre Guild at their 80th celebrations in 2013.

Roger came to Brockville in 1977 to teach music at Commonwealth School where he found time to create a Junior Band, a Senior Band and a choir. He started a successful summer program for young children and was the founder of the Brockville youth Concert Band. He also sang with the Riverside Singers. Roger was a very gifted, dedicated director and a talented actor with many roles to his credit including the King of Siam in The King and I and Captain Von Trapp in The Sound of Music. Roger knew how to pull the best performance from everyone with whom he worked.

Barry is a graduate of the Thousand Islands Secondary School Theatre program. He studied theatre arts in university and then returned to Brockville to begin a love affair with the Brockville Theatre Guild and the Brockville Operatic Society. From directing to acting, there is a long list of shows to his credit. He is a life member of both organizations. Barry is also known for sharing his expertise as an accomplished make-up artist.

Denise is a founding member of the Joshua Bates Centre of the Performing Arts Committee in Athens, Ontario. She became the Chairperson of the organization soon after its inception. The responsibilities of contacting and contracting the artists, acting as host at shows, preparing OAC grant applications and many other duties were taken on by Denise as well.

Joy's contributions to the performing arts in Brockville are numerous and varied. She has been both stage director and music director, music teacher, performer, executive member and ticket taker for the Brockville Operatic Society, the Brockville Theatre Guild and the Brockville Concert Association. For more than a decade, she has volunteered many hours for the Brockville Lions Music Festival. Behind the scenes or in front, Brockville has benefitted by her dedication. Many former young students from Westminster Public School credited Mrs. Goodfellow as being their favourite teacher!

Matt played in many country bands, mainly on steel guitar for 60 years. He played at dances, memorial services, church functions and charity events including The Palliative Care Telethon. He is an honourary life member of the Brockville Musicians Association and has a great knowledge of Country music.

Started in the mid 1960's by local pianist Bruce Ker (inducted in 2006), this popular local trio performed at hundreds of dances and special events across Eastern Ontario as well as performing at private functions at The Royal York Hotel in Toronto and in Ottawa. The original trio consisted of Bruce Ker, Bill Dargavel and Ross Phillips. In later years, an all-star line-up of local talent performed in the trio include: Stewart Patterson, Richard Crotty (inducted in 2008) and Otto Eckhardt.

Mike & Charyl Trussell -- 2011
Following his interest in high school musicals, Michael Trussell debuted in the lead role of "Moon Face" in the Brockville Operatic Society's production of Anything Goes in 1972. He continued his passion for the stage with Brockville Operatic Society and Brockville Theatre Guild productions by acting, singing, dancing, producing, directing and set designing and constructing.
Since the 1980's, Charyl has been involved with the Brockville theatre Guild and the Brockville Operatic Society productions as Costume Mistress and Designer. She has coordinated many costume teams to present many authentic, colourful and memorable productions which include: Cinderella, Singin' in the Rain, Camelot, The King and I, Crazy for You, Steel Magnolias, and most recently Willy Wonka
Both Mike and Charyl have been recognized as Honourary Life Members of the Brockville Operatic Society.
Born in Brockville in 1919, Moxie Whitney's orchestra held the longest running big band gig in Canadian History! Moxie and his orchestra played six nights a week for 23 years from 1948 to 1971 at the Royal York Hotel in Toronto. His booking agency was the first to bring mega star talent to Canadians on a regular basis. Moxie is credited with launching Anne Murray into Stardom. He did the same for the careers of Rich Little and Doug Henning.

Bruce comes from a very musical family. He is a member of the Brockville Concert Band and has played for several productions as a member of the "pit band" at the Brockville Arts Centre. In the mid 1990's, he developed "Alexander's Big Time Band"—a seventeen piece swing orchestra comprised of fellow music lovers. Along with his family, he has been a regular at the New Year's Eve concerts and many other events.

Gary & Mickey Code -- 2012
Gary & Mickey Code have been performing for over 40 years! They opened for over 20 of the biggest names in Country music. Gary and Mickey have appeared at Opry North and the Grand Old Opry and were featured on the Shania Twain Show. Ms. Twain remembers the Codes and commented on how they helped her career. They have performed for numerous charities over the years.

Harry was a member of one of the first Rock & Roll Bands in Brockville – The Travelons. They often performed at Playland Park, The Hilltop and Rideau Ferry. An accomplished sax, trumpet and bass guitar player, Harry toured Canada, the USA and the South Pacific playing with Bobby Curtola, Sammy Davis Jr. and The Platters.

Ann has been a fixture behind the piano for numerous groups for over thirty years. The Riverside Singers, the Brockville Community Choir, the New Year's Eve concerts and several churches have benefitted from Ann donating her musical gifts. She has taught privately as well as accompanying students for exams, recitals and festival performances. Ann's ready smile and sense of humour as well as her dedicated volunteerism has endeared her to everyone with whom she works.

Calvin is a master set designer and set builder for the Brockville Operatic Society, the Brockville Theatre Guild, St. Lawrence Stage Company and the Brockville Campus of St. Lawrence College Music Theatre Program. He is noted for his innovative and breathtaking sets that are a marvel in function and art.

Cally has contributed to music and musical presentations in Brockville and area for many years through her association with the Brockville Operatic Society, The Riverside Singers and the Thousand Islanders Lady Barbershoppers. She has contributed to behind-the-scenes work as an accomplished make-up artist. Cally has also been a storyteller with the Brockville Ghost Walks.

Dr. J. L. (Jack) Carroll -- 2013
Jack Carroll, a pioneer in the community theatre movement in Canada, began his quest to establish a theatre group for all Brockvillians in 1933. Over the initial years of the Theatre Guild (then the St. Peter's Players), Dr. Carroll assumed the responsibilities of director, stage manager, actor and producer for a number of one-act and full length productions which were performed both locally and at regional festivals. He directed the local production of "Our Town" which travelled to Calgary in the 1950's to compete at the all-Canadian Dominion Drama Festival. After 85 years, Dr. Carroll's dream of a theatre group in Brockville continues to thrive.

One of the most popular 50's and 60's Rock & Roll groups in Eastern Ontario, Eddy & The Stingrays started over 35 years ago. They are still as popular today as they were when they first started. Performing for countless festivals and fundraisers, they have maintained a level of entertainment many groups admire today.

Margot is a consummate volunteer. She was presented with a lifetime achievement award as a founding member of the Brockville Community Choir and served as president for a term. She not only produced 12 shows for the Brockville Operatic Society but also performed with the BOS from 1971-1992 as well as sitting on the board of directors for 4 years. She was founder of the award-winning Linden Girls Junior Choir in 1979. She is known as one who strives for perfection in herself and others.

Although better known as Brockville's singing policeman, Peter Lynch has been a soloist in several productions of the Brockville Operatic Society and an actor with the Brockville Theatre Guild. He was a valued member of the Brockville Police Chorus and has performed the National Anthem for the Toronto Blue Jays, the Ottawa 67's and the Brockville Braves. He was a regular at the First Night New Year's Eve concerts and also performed for Glen Productions in Cornwall.

An integral member of Brockville's musical community, Donna deserves recognition for her numerous contributions. She is an accomplished rehearsal pianist, vocal coach and choir director. Donna has played for many Brockville Operatic Society productions and has accompanied many students at the Brockville Lions Music Festival. She plays organ at St. Paul's Anglican Church and doubles as a percussionist with the Brockville Concert Band.

Loretta U'Ren Kivinen -- 2013
Loretta is a well-known and respected music teacher in the Brockville area – teaching piano, theory, voice, accordion and organ. She sings in the Brockville Community Choir and the St. Lawrence Anglican Church Choir. Loretta has also been involved with the Brockville Operatic Society, writing and producing their 25th Anniversary show. Loretta can often be seen accompanying her students at the Brockville Lions Music Festival.

Lynn has been sharing her love of music and her performance abilities with audiences of all ages from Brockville to Upper Canada Village for many years. She thinks nothing of packing her keyboard in her car to accompany a soloist or group; when there is no electricity, she'll pack her accordion instead! Whether teaching children, conducting the Red Hats, or playing in churches, Lynn can be counted on for her enthusiasm and love of music.

Marianne has become a fixture at the Brockville Arts Centre. As a performer, Marianne appeared multiple times in the Brockville Lions Music Festival as well as numerous productions at Brockville Collegiate Institute. A Life member of the Brockville Operatic Society, a founding member of the Riverside Singers and a volunteer Stage manager for the Brockville Arts Centre, Marianne has donated thousands of hours of her time to the performing arts community of Brockville.

The Fabulous Bel-Airs were formed in 1986 and they are still going strong! Consisting of Ken Kubiac, Dave and Paul Gardiner, Brian Healy and James Murray, the band built a solid reputation for performing classic Rock 'n Roll from the 50's and 60's. The Bel-Airs met the challenge of balancing music, jobs and family to build a loyal following. They were regular performers at Riverfest and have played alongside such big names as: Jan & Dean, Frankie Valli, The Five Man Electrical Band and The Mamas and the Papas. At one Canada Day Celebration on Parliament Hill, they entertained a crowd of over 100,000 – but some of their most meaningful performances have been at countless fundraisers and worthy causes in their hometown community.

Harold has been performing solos at church and Christmas concerts since he was four years old! He was a founding member of the Community Gospel Choir "Share"which toured throughout Ontario and Quebec and recorded two albums. Harold has been involved for over 40 years as an active leader in our community. He has served as President of the Brockville Theatre Guild and is an active member of the Brockville Operatic Society – having also served on their board. He is well-known in Brockville as an actor and singer, performing in local productions, community and church choirs. He never hesitates to offer his time and talents for many local fundraising ventures. Currently, Harold is a member of the board of directors of Youth Opportunities in the Arts. He has also 'hit the boards' on the professional stage at The Thousand Islands Playhouse in Gananoque.

Matthew is a graduate of both the Crane School of Music and Ithica College. He is an accomplished player of brass instruments and a published arranger. Matt is a life member of the Brockville Concert Band as well as being a former director. Before the onset of Matt's blindness, he played with the Utica Symphony, the Orchestra of Northern New York, the Binghamton Symphony and The Canadian Brass. Since his return to more familiar surroundings, Matt plays with the Alexander's Big Time Band and with Pat Johnson and his Blues Trio. He also plays in the pit orchestra for numerous productions of the Brockville Operatic Society and with the "House Band" of Wall Street United Church.

Art came to the theatre in 1919 and just never bothered to go home! He was often referred to as Mr. Theatre. His forté was lighting, as he was a trained electrician and a licensed film projectionist. Art volunteered at The Civic Auditorium (now the Brockville Arts Centre) and built and painted sets. In 1960 when the Arts Centre was converted from a "B" movie theatre, Art and his family donated time and money to the cause and purchased state-of-the-art lighting equipment. He was a fixture at the BAC with his dog Shammie and his ever-present cigar!

Jennifer Deligiannis -- 2015
Jennifer has over 41 years of experience teaching dance to children of all ages and skill levels from as far away as Thailand, Iran and her home country of the Phillipines. She was artistic director with the Brockville Thrill Dancers for 19 years as well as being choreographer for such Brockville Operatic Society shows as: The King and I, Cinderella, Annie and Meet Me in St. Louis. Jennifer also volunteered her time with various high school dance programs and musical productions. Her dance school gave scholarships to less fortunate students – to allow equal opportunities to all. Under Jennifer's guidance, the Thrill Dancers performed at numerous downtown Brockville Side Walk Sales, Multicultural Festivals, Santa Claus Parades as well as fundraisers for Canadian Aid for Chernobyl, Heart and Stroke and Alzheimer's Society. She has deeply inspired and instilled self confidence in many local young people.

Eithne is known in the community for her ever-energetic promotion of Irish music, language and culture. She is largely responsible for the birth of the Brockville Irish Cultural Society in 1996—an organization for which she served as President for 10 years. Eithne and her husband Tony participated with the groups Slainte and Dublin Road for 17 years of the New Year's Eve concerts. She has produced two CD's of songs in the Irish language. Proceeds from her CD's went to a facility called the Canadian Gaeltacht which is devoted to the teaching and preservation of the Irish (Gaelic) language

This outspoken red-haired lady endeared herself to the Brockville Theatre Guild and the Brockville Operatic Society members! She appeared on stage only once in the BTG production of Not Enough Rope in 1970. After that, she discovered her niche behind-the-scenes with costume design and set décor. She was a wizard with a needle and thread and was often seen creating drapes and cushion covers using fabric or discarded costumes from the Theatre Guild and Operatic Society collection! Pauline was the recipient of four Eastern Ontario Dram league Festival awards for costuming. She became a life member of the BTG in 1978 and in 1985, a trophy bearing her name was donated by the Theatre Guild to the Eastern Ontario Drama League for their annual competition.

Harold Roobol and Sue Baker have been performing the lively rhythms of Sharon, Lois and Bram, Raffi, Fred Penner and the like for area children and their families since 1996. Along with guitarist Al Torrance and accordionist Neil Paddle, they released a CD entitled "Back to School" in December of 2003 which included two original songs and a teacher's guide. Everyone is encouraged to join in with actions, singing, rhyming and even playing percussion instruments at an H & S performance!

Nora was an avid musician from an early age. She served as interim church organist at St. John's United Church from 1944 to 1952 at which time she took the permanent role of Music Director. Nora continued to play for another 42 years at St. John's. She was a devoted music teacher; along with Irma McCann (inducted also in 2015) she played for many Brockville Operatic Society productions in their early years.

Norm gives and then gives some more to the betterment of theatre and music in Brockville and area. He has been active since the early 1970's with both the Brockville Operatic Society and the Brockville Theatre Guild in the areas of stage management and set construction. He has also served on the Board of Directors of both organizations. He was even seen on-stage in the play Love, Sex and the IRS! In a three year term as member of the Civic Auditorium (now Brockville Arts Centre) Advisory Board, he applied his electrician skills to help re-wire the auditorium for sound. He and his wife Ann also are regular volunteers at the Brockville Arts Centre. Norm and his wife Ann also continue to serve on the organizing committee of the Brockville Lions Music Festival.

Irma was first approached by Dr. Frank Phillips (inducted in 2007) in 1953 to be rehearsal accompanist and performance pianist for the inaugural Brockville Operatic Society`s production of The Pirates of Penzance. Irma continued to donate her time and talents as show accompanist for most productions of the BOS from 1953 to 1978. She also devoted many hours as an accompanist to local soloists for various concerts and performances. She was known for her dedication and warm personality. To perpetuate her memory, a scholarship in her name is awarded each year to a high school student pursuing music at the post-secondary level.

Stan was an artist and musician but above all an actor. Although he designed sets, did make-up, served on the board, directed and painted scenery, he was happiest and was at his best when on stage. Stan's earliest role with the Brockville Theatre Guild was in 1967. He was seen on stage almost every year after that – and won Best Actor award with the Eastern Ontario Drama League for his portrayal of Alistair Spenlow in Move Over Mrs. Markham. Stan also had many memorable performances with the Brockville Operatic Society including: Boris Adzinidzinadze in CanCan, Fagin in Oliver and Tevye in Fiddler on the Roof. After his untimely death in 1986, the Brockville Theatre Guild established a bursary in his memory for budding high school thespians to use in the pursuit of their dreams.

Brian might best be known for his portrayal of Canada's first Prime Minister Sir John A. MacDonald, but he has also portrayed such noteable Canadians as: the Honourable Charles Jones, Captain Julian Mallette, Captain James Stephenson and Mr. Tom Storey. He was also an active member of the Brockville Operatic Society and the Brockville Theatre Guild from 1968 – 1978. Brian became a member of the Brockville Pipes & Drums (then the City of Brockville Pipe Band) in the late 80's and participated in many local parades and historic events. He was the Master of Ceremonies for the local Celtic Festival for 5 years, has published two historic booklets and was a founding member of the Brockville Infantry Company which has enlivened many parades and local activities with their marching, firing musket volleys and celebratory feu de joie. His historic characters have helped stimulate an interest in and discussion about various aspects of Canadian history.

Sandy Runciman Orchestra -- 2015
Sandy Runciman started out playing bass fiddle for various local bands and then switched to alto sax and clarinet. The Sandy Runciman Orchestra began in the early 40`s – not only playing locally, but branching out to Ottawa and Kingston as well. Because of the war and shortage of players, Sandy would bring in outside talent to fill in the gaps. They ranged from 8 to 14 players over their years in existence. The Sandy Runciman Orchestra was by far the most popular band in the region in the late 40s. Sandy was also actively involved in the local musicians Union

As one of the conductors of the Brockville Community Choir, Heather advanced the choir to a high standard with challenging classical music. She started the Brockville Community Youth Choir in order to build and promote music education for young people locally, creating an atmosphere of fun while encouraging her choir to excel—winning gold at music festival! While teaching choral music education at Crane School of Music in Potsdam, New York, Heather also contributed to the Brockville community by giving many unpaid hours of work.

Curtis Country was formed over 35 years ago when Don Curtis of Athens was asked to play at the Palliative Care Telethon and was joined by his sons Steve, age 12 and Craig, age 9 both of whom were taught to pick by their father. They played classic country music for over a decade of Palliative Care telethons, after being joined by 15 year old Scott Pyke on drums. This band has had enormous popularity in the country music scene in Eastern Ontario. Curtis Country did 45-50 'gigs' a year while the boys attended school and Don worked in construction, playing from the Quebec border to Picton, including Riverfest. The band played many benefits over the years for folks who were burned out or were ill. They performed at weddings and fundraiser dances for the Joshua Bates Centre renovation – often to sell out crowds. In 2000, their last regular 'gig' was held in Dixon's Corners before the boys went on to their own careers. Craig has been living and working in Nashville for years and Steve continues to play locally. They recently recorded a second CD set; a 20 year old recording made at a wedding has been re-mastered for CD release.

Fred showcased local talent and helped many get their start in the area. His Jamborees on Saturday nights at the Brockville Civic Auditorium (now the Brockville Arts Centre) in the 70's are remembered by many. He sang his heart out at Fairs and Senior Centres, on CJOH-TV and on his own Brockville TV show called: "Friends and Neighbours". Stompin' Tom produced his first album called: "Freedom and Daydreams"and once said that "Fred has penned twice as many songs as I have".

Bob has been entertaining in music circles for over half a century with a repertoire ranging from classic rock to classic country, bluegrass and down-home tunes. He was the leader of the band known as "The Futuras". Bob has also performed with Classic Country, the Collectables and the Classic Troubadours. Presently, Bob performs at long term care facilities and retirement homes stretching from Kingston to Prescott and up the valley to Arnprior. He enjoys performing for the junior division in local elementary schools, encouraging students to embrace the arts. Bob brings enjoyment to Palliative Care patients and helps with many local charity events.

Lisa is everything theatre in Brockville. She has been and continues to be an active performer in both the Brockville Operatic Society and the Brockville Theatre Guild. Lisa has been a huge supporter of our local theatre community – supporting both peers and youth in pursuing the arts as a way to grow and develop confidence and leadership skills. She is a hard-working fundraiser in our community – often using the arts as a means to support worthy causes such as Our Kenyan Kids and Youth Opportunities in the Arts. Lisa has served extensively on the board of the Brockville Theatre Guild and is a member of the Brockville Operatic Society. She has held the positions of Festival Liaison and President of the Eastern Ontario Drama League. Lisa taught drama for over 29 years at Brockville Collegiate Institute where she encouraged an entire generation of young people to develop a love of performing arts. Lisa was given the honour of becoming a Life Member of the Brockville Theatre Guild in 2017.

Terry is a champion of the Arts in Brockville as a promoter but mostly as a philanthropist. His sponsorship has helped the Brockville Arts Centre renovation and the St. Lawrence College Music Theatre Performance program for over eleven seasons. The Brockville and Area Music and Performing Arts Hall of Fame owes a deep gratitude to Terry for his sponsorship from its inception. He also has sponsored the St. Mary High School Music Theatre performances. Terry has also sponsored the Summer Series of the Brockville Arts Centre for many years – resulting in $100,000 donated and 200 performances given! Terry is gaining a reputation for his singing, having performed at the Palliative Care Telethon and in more than one Brockville Operatic Society production.

Angelo initiated the Tiki Club – a dance club for teenagers in the 1960's providing a healthy activity for the youth at that time. At the same time, the club sponsored the Junior B Hockey Club known as the Tikis. As a promoter, Angelo sought out the best talent available to feature at the dances in order to keep the interest of the community's teenage population. Bands such as: The Staccatos (Five Man Electrical Band), Steppenwolf and The Stampeders frequented the Tiki Club! Angelo also provided an opportunity for local bands to make their débuts on a local stage in a real dance club atmosphere. It is hard to imagine how many young people benefitted from Angelo's foresight.

Classically trained in voice and piano, Sheila has dedicated decades of teaching piano and music theory to children and adults. She spent 22 years as an elementary school teacher and administrator – teaching vocal music and directing children's choirs and preparing choirs for music festivals. For over the past 21 years, she has conducted the Spencerville Community Choir. Each year, this 40 voice choir presents two Christmas concerts in support of Lazarus House and Food for All Food Bank. Sheila created the 17 member Village Voyces Chamber Choir in 2008, exploring the polyphonic music of madrigals. In 2012, she formed the Grenville Community Children's Choir which is open to children in Grades 3-9 who love to sing. For her community service and involvement, Sheila received the 2014 Edwardsburgh/Cardinal Citizen of the Year Award.

Nancy Wickwire-Fraser -- 2017
Nancy has been a long-time supporter of community theatre. She has worked enthusiastically with the Brockville Theatre Guild and the Brockville Operatic Society productions since the 1960's as an actor, director, costumer. She also worked on set construction and set design. Nancy served on the Brockville Theatre Guild Board of directors, organized workshops and was instrumental in organizing Eastern Ontario Drama League festivals hosted in Brockville. Her roles with the Theatre Guild have led to representation at Drama Festivals throughout Ontario.

Michael is a professional playwright who developed his love of theatre in the Brockville Collegiate Institute Drama Club and as a participant in several Sears Drama Festivals. While in high school, Michael also appeared in several productions with the Brockville Theatre Guild. He was the recipient of the Thérèse May Scholarship for an aspiring student pursuing post-secondary theatrical training. A graduate of the Ryerson Theatre School, Michael won a Dora Mavor Moore Award for his play Kicked. In 1999, his play The Drawer Boy again won a Dora Award for Best New Play as well as the Governor General`s Literary Award and a Chalmer`s Award. Most recently, Michael volunteered his time in Brockville by running workshops with youth on writing and performing original monologues and with the cast of Brockville Theatre Guild`s production of The Drawer Boy.

Healy & Orr, both self-taught musicians, have been performing locally for over 25 years. Doug Healy writes songs including "Old Dirt Roads" and the theme song for the International Plowing Match of 2007. Randy Orr plays along! They are still very active – playing locally for several charity events including the Palliative Care Telethon and Big Brothers and Big Sisters events.

Art lived in Brockville since he was 7 years old. Music was always his passion. He performed in the Ottawa Valley, Brockville and surrounding area for many years. Art's first CD was produced when he was in his early 20's. His excellent vocal range allowed him to perform country, rock, rhythm and pop music. He worked extremely hard to create a professional evening of choices to please his audience – the crowds loved him. He performed as a singer and guitarist for over 50 years for such organizations as Riverfest, the palliative Care Telethon, the Children's Hospital of Eastern Ontario (CHEO) and too many Legions to document!

Brockville Police Chorus -- 2018
The Brockville Police Chorus performed for over 20 years at long term care facilities and retirement homes, Christmas Parties and more. They performed at the NAC and Roy Thompson Hall and produced two record albums. The chorus was comprised of local officers.

Rod is a professional director who developed a love of theatre while attending Brockville Collegiate Institute. While a student, he performed in many Sears Drama Festivals and worked backstage for numerous Operatic Society and Theatre Guild shows. After majoring in directing and acting at university, he returned to Brockville to bring Shakespeare to the Riverfest stage for several summers. He directed for the Theatre Guild in 1994. He was the youngest professional ever to direct at the Stratford Festival. In 2009, Rod was chosen one of the top 10 lecturers in TV Ontario's Big Ideas, Best Lecturer Competition. Rod is currently the Head of Drama at Canadore College.

Donna has been involved as a costume mistress and has many drama and musical theatre productions to her credit with the Brockville Operatic Society and the Brockville Theatre Guild and travelling productions at the Brockville Arts Centre. She has been honoured with nominations and awards for Best Costumes at the Eastern Ontario Drama League Festivals. Donna has participated on costume teams doing research, sewing and backstage assistance in over 14 productions with the BOS and the BTG's two EODL festival entries.
Dave has been onstage with the Brockville Operatic Society and the Brockville Theatre Guild since the early 70's and has appeared in over 30 stage productions. Dave has been active with other community theatre groups: Meaford Town Hall Players and Tweed National Theatre. Dave has contributed to theatre in many ways as Past President, producing shows, backstage work and theatre committees striving to keep amateur theatre vital in the communities in which he has lived. Dave may best be recognized during the Christmas season as Victorian Santa and his role as Kris Kringle in "Miracle on 34th Street".
Malcolm began taking piano lessons at age 5 and earned his ARCT while in Grade 11. In 1969 Malcolm and his family moved to Brockville where for the next 38 years he was involved in just about everything musical that happened at Grenville Christian College including the Gilbert & Sullivan Operettas for which GCC was so famous. In 2006, Malcolm became the accompanist and artistic collaborator for the Brockville Community Choir and in 2008 the music director for the Brockville Operatic Society's production of "Annie Get Your Gun" Malcolm also regularly plays organs for Anglican churches in the area. This past summer he was both music director and accompanist for Prescott's Shakespeare production of "The Sound of Music".

Ross joined the St. Peter's choir as a boy in 1937 and continued with the choir for 60 years. He was into jazz, big band and swing and excelled at playing double bass. Ross played with "Woody and the Woodchucks" and "The Bruce Ker Trio". He was also a member of the Brockville Concert Band and the Brockville Community Choir.

As an organist, pianist, conductor of choral music and music teacher, Jeff Reusing has been a major classical music presence in the Brockville area for 20 years. He gives several organ recitals each year, plays in a chamber ensemble, conducted the Brockville Community Choir for 10 years, is organist and choir master for St. Lawrence Anglican Church, performs in New Year's Eve concerts and accompanies vocal and instrumental students at the Lions Music Festival.

Pipe Major Ed Bush of the Glengarry Pipe Band led many of his extended family into the piping and drumming world. He is also an outstanding soloist bandsman. Pipe major, teacher, composer, organizer and judge, Ed began piping at the age of seven. At 16, Ed dominated the amateur competition field, winning top prizes. He became a professional piper in 1978 winning many first place prizes in both light music and piobairachal. Ed has enjoyed competitive success with a string of leading pipe bands.
Drum Corps was Rolly's passion and he was involved with them in one capacity or another since he was 12 years old when he joined the Lamplighters in Smiths Falls. When he moved to Brockville in the early 1970s, he and John Craig of the Lions Club started the Brockelles Drum & Bugle Corps -- an all-girls organization. In 1996, Rolly again worked alongside members of the Brockville Lions Club and helped form the Lions Steel Drum Band. Rolly was a proud volunteer with Riverfest, Ookpik and other local festivals. He worked behind the scenes to help organize, promote and raise funds to help bring musical entertainment to our community.
Classically trained in voice, Alex has been performing professionally and teaching voice in Brockville for the last 16 years. Alex taught voice for 10 years in the St. Lawrence college Music Theatre Performance Program as well as maintaining a private voice studio. Alex continues to inspire his students through his teaching, volunteering and performing with groups such as The Brockville Operatic Society, The Brockville Theatre Guild, the Maple Leaf Brass Band, the Brockville Concert Band, the Brockville Community Choir and Sunday in the Park. He is a passionate supporter of our youth and has most recently been instrumental in the formation and operation of Youth Opportunities in the Arts.
Reg has been involved with music throughout his entire life. He plays the trumpet and has been a member of The Infidelity Band, The Black Muckdiggers and The Kerr Boys. Reg co-founded the Brockville Multicultural Festival in 1981 as a project to celebrate and promote Brockville's ethnic diversity. Reg is also the co-founder of the Brockville Lions Steel Band which began in 1996. Reg continues to be actively involved with this organization, attending all parades and concerts.
Brenda was born in Brockville and raised in Prescott, later moving to Guelph, Ontario. After graduating from South Grenville District High School, she discovered her true gift of singing. over her 20 plus year music career, Brenda's carefully crafted CDs have received radio airplay on CBC, BBC and Jazz FM 91.1 Toronto. As well, she has guested on vocals and harmonies on many other artists' CDs. Recently, she has performed at Merrickville's Jazz Fest and the 1000 Islands Jazz and Blues Festival. Brenda has always stayed closely connected with her birthplace and home town's family, friends and music fans. Her critically acclaimed CD "Jazzlike" is a best seller.
Thousand Islanders Barbershop Chorus
The mandate of the Thousand Islanders Chorus is to empower women through a cappella music, friendship, education and opportunity while instilling joy in the community. They have been performing harmony in barbershop style in the Brockville area for over 46 years, performing at no cost at venues ranging from schools, long term care homes, retirement homes and numerous fundraising events. They exemplify great music and great friends -- a winning combination for any group!
Sue began singing in choir at Maynard Public School and while in high school was the main vocalist for the South Grenville Stage Band. She began performing professionally while still in high school in a Dixieland Jazz Band. Upon graduation, Sue was offered a position of lead vocalist for the band Crimes of Passion. In 1984, Sue moved back to Brockville and continued to sing in festivals and night clubs. Her attention switched to song writing and she released an album of original songs. In 1966, she began performing children's music with H&S Express. Sue eventually formed her own band called Sue Baker and the 1000 islands Band. She is very generous in donating her time and talent to many worthy causes in our community including: Brockville General Hospital, Palliative Care, the United Way and Sunday in the Park.
John's commitment and involvement in the performing arts spanned move than 40 years. He was a teacher, actor and a part of the stage crew for over 20 Operatic Society performances including "The Wizard of Oz", "Annie Get Your Gun", "Oliver" and "My Fair Lady". He served on the BOS Board of Directors three separate times. His work with the Brockville Theatre Guild ran from 1970 to 2015 -- with 19 different productions. When not on stage, John faithfully supported both organizations from the audience's perspective! He was well-known for his "morning after" phone calls to members of the cast as he shared his opinions and observations. John was also a chorister with the Brockville Community Choir for over 10 years.
A. J. has made many appearances on stage in a wide variety of venues. He has appeared in Brockville Operatic Society productions in chorus roles and in memorable lead roles in "Singin' In the Rain" and "Kiss Me Kate". A. J. has presented such community shows as "Silver Wings" and "Bless 'em All" in support of local projects. He also has featured different show bands throughout Eastern Ontario and has proven to be an accomplished vocalist and all-round entertainer.
Todd started his performing career while a student at Brockville Collegiate Institute and was cast in productions with both the Operatic Society and the Theatre Guild. Todd then pursued a professional career, appearing in Canadian productions of "Les Misérables", "Cats" and "Phantom of the Opera" as well as a Broadway tour of "Showboat". He returned to Brockville in 2009 to direct "Singin' In The Rain" for the BOS. Todd continues to share his technical and creative talents with Brockville by assisting in numerous productions for the Operatic Society.
Al is a seasoned sound technician within the Brockville area and is widely known for his expertise as well as his professionalism and strong work ethic. many professional musicians classify him as the best sound technician in Ontario. He continues to promote the world of music and performing arts as president of the Musicians Union. He continues to perform with local talent.
Margaret began playing piano at age 7 and playing organ for church services at 11 years old. She began teaching piano at 16 and graduated with an honours degree in piano from Queen's University. Upon graduation, she opened a private studio and in 1986 began accompanying public school choirs and vocal students at the Kinsmen Music Festival in Cornwall. She has inspired and prepared numerous students to go on to college and university in music. She has also accompanied for St. Lawrence College, Community Christmas, the Brockville Operatic Society, Brockville Community Choir and the Maple Leaf Brass Band. Margaret is extremely generous in volunteering her musical talent in and around our community.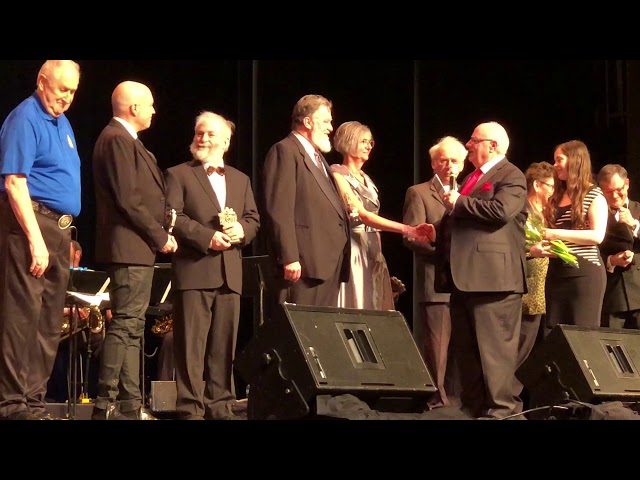 Chairman of the Music and Performing Arts Hall of Fame Bruce Wylie congratulates the 2018 Inductees: H. Ross Phillips (daughter Margot accepting on her father's behalf), Malcolm Gillis, Donna and Dave Cody, Jeff Reusing, Rod Carley and the Brockville Police Chorus.
/